Laid down, 1 May 1975, as Rose City a Maritime Commission type (T8-S-100b)
tanker hull, under Maritime Administration contract (MA hull 301) at National Steel and Shipbuilding Co., San Diego, CA.
Launched and Delivered, 1 February 1976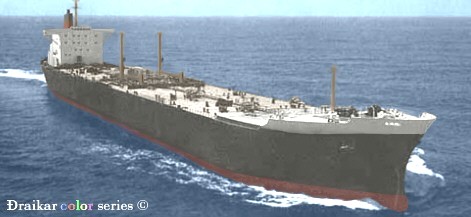 ---
As Converted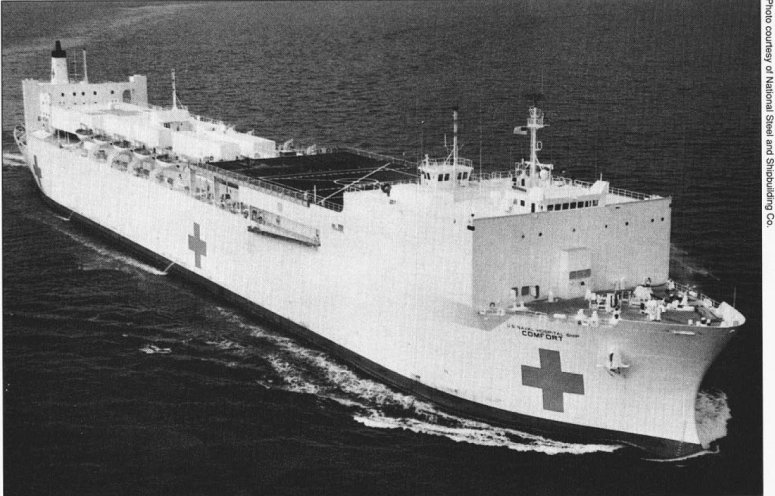 ---
Mercy Class Hospital Ship:
Converted to a Hospital Ship at National Steel and Shipbuilding, at San Diego, CA
Placed in service as USNS Comfort (T-AH-20), 1 February 1987 Comfort is one of two Hospital Ships and is part of the Naval Fleet Auxiliary Force,
maintained in Reduced Operational Status (ROS-5) at a layberth in Baltimore, MD.
Specifications: Displacement 69,360 t.(fl) Length 894' Beam 105' 6" Speed 17.5 kts. Complement MSC 63 civilian, Naval Hospital Staff 956, Naval Support Staff 258 Patient capacity 1000 beds Propulsion two boilers, two GE turbines, one shaft, 24,500hp (18.3MS)
---
This model is 55" Long, 10" High, 6 1/2" at Main Deck.





Back to Ships Home Page
alex@wordbench.com
---
Page created & maintained by Alex Electronics. Copyright © 2006 Frank Alexander.
All Rights Reserved. Last update July, 2006